My song Mañana recently got through to the semi finals of the YouBloom Song Contest, so a big THANK YOU to everyone who voted for it and helped it get there! Sadly though Bob
Geldof and the team of judges failed to select it for the finals. However, I believe very much in the motto of try, try and try again, so this is what I am doing with a new entry in the contest entitled Always Look So Fine.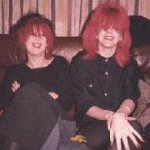 The YouBloom Song Contest, by the way, has been renamed as the YouBloom Music Awards, and my song Always Look So Fine is in the current Q3 Heat 1 of the competition.
It is very much a pop/rock song that I recorded many years back with my then band Flowers of the City. It nearly got released on a Cardiff independent label too at the time. A popular song in my live performances it is basically a simple love song that is saying how it doesn't matter what sort of clothes the one I love is wearing because she always looks really beautiful anyway.
The photo I use to illustrate the song is of two former neighbours of mine when I lived on the Ely council estate in Cardiff. The two sisters Heather and Maria used to dress as punks and coloured their hair with shocking Crazy Colour pink. In my song lyrics there is the line: "I've seen you in black punk clothes…" and the two girls often used to dress in black so they make great models for this!
I need your votes again to help me progress in this prestigious Music Awards competition so please log in if you are already a member, or join if you are not, then listen to my song and vote. Here is the link to it: http://www.youbloom.com/ybsc/entry/2552/