Designing the perfect nursery with a cute theme, such as those found with owl baby bedding, and the perfect color of paint, can be fun and satisfying. But just as much or more consideration needs to be put into planning for the nursery to be a safe place for your baby now and as he/she grows. According to figures compiled by Safe Kids Worldwide, home accidents cause almost 2 million young children to be taken to the emergency room every single year!
Let's look at some of the things you can do to make the nursery safe for your new baby.
Baby Crib Safety
Ensure that your baby's crib meets the latest government safety standards. New federal requirements were set up in June 2011 for all cribs sold in the US. Five issues were specifically addressed:
The traditional drop-side crib is no longer allowed to be manufactured or sold.
Wooden slats must be stronger than they once were to prevent breakage.
All hardware on the crib must contain anti-loosening devices. Hardware should be periodically checked to ensure that the crib continues to be safe.
The supports for the mattress need to be more robust.
More stringent safety testing was required.
Another thing to seriously consider is the spacing between the slats which should not be more than 2-3/8 inches (6 cm) apart. Cut-outs in the end panels of the crib should also follow this rule.
There should be no decorative knobs on top of the corner posts as these can catch on the baby's baby's clothing and cause strangulation.
Mobiles, if used in your baby's crib, should not be used much beyond 5 months of age. If your baby starts using it to pull themselves up, they can pull the mobile down possibly getting tangled up in its strings or ribbons. Again you would run the risk of strangulation or some other injury.
The Home Safety Council recommends that the only thing you place in your baby's crib is a firm mattress with a crib sheet. All those other cute cuddly items, the pillows, blankets, and the stuffed animals, have caused suffocation in children under one year of age.
Save these items for use outside the crib or for when your child gets older.
Electrical Safety Tips
As your child get older and more curious of their surroundings, it becomes very important to protect them from the possibility of electrical shock. It is best to take care of this task now when you are setting up the nursery rather than waiting until later. You want to make sure that all outlets are covered, and since toddlers are known to remove individual socket protectors, it is best to go with a protector that covers the entire outlet plate. Different types are available, and some also come with cord shorteners eliminating another hazard for both you and your child.
Keep Windows Safe
Do not place any furniture in front of or too near windows. You do not want to run the risk of your child crawling up on the furniture, including the crib, and then falling into and possibly through the window. Window guards can be installed over your windows to keep your child safe at floor level.
Window treatments with cords pose another potential threat to your child – strangulation. It is important to tie the cords up so that your child cannot reach them, or even better, install window treatments that are cordless.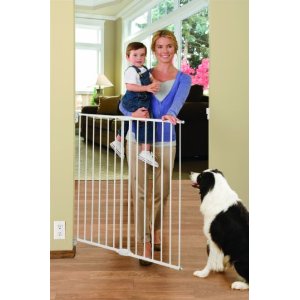 Baby Safety Gate
If you will be installing a baby safety gate, make sure to purchase a gate that screws directly into the doorjamb or wall. Pressure mounted gates have been known to fall or be pushed over by a strong-willed child. Also avoid the gates that open and close with accordion-type movements as these can injure a child by pinching or strangulation.
Baby Diaper Changing Table
The diaper changing table can be a very scary place! You should not store your baby care products in the changing table or any other location that they have access to. The best place to store these products is high on a shelf that the baby or toddler cannot reach. This could be on a shelf mounted on a wall near or above the changing table, or in a taller cabinet with shelves beside the changing table.
If you find that you must store these baby care products in the bottom of the changing table, insure that you have properly mounted child protection locks on the doors or drawers.
When you need to change your baby, make sure that you have everything you need before you begin the process of changing your baby. Although the changing table's safety strap should keep a child held securely, accidents do happen. By having all of the things you need easily accessible, you will be able to keep a hand and your eyes on your baby at all times.
Secure Tall or Heavy Furniture to a Wall
Use anti-tip furniture brackets to stabilize taller furniture, such as changing tables, cribs, cabinets and dressers, to prevent them from tipping over on your child. Children like to crawl on things making taller pieces of furniture a deadly hazard. Be sure to install safety latches on the bottom drawers of furniture so that your child cannot pull them out and use them as a ladder to get to the top.
Kids Toy Storage
As parents, we go through a lot of effort to make sure the toys we provide for our children are safe. We need to put as much thought into the storage of their toys as well. It is recommended that toys be stored in bins or boxes that do not have lids. This then prevents your child from getting head, hands or some other body part pinched or smashed as would happen if the traditional toy box lid were to come down on your child. It also prevents your child from becoming trapped inside the toy box.
If you do have a traditional wooden toy box, you can install hydraulic hinges on the lid to prevent the lid from falling on your child.
By taking these baby safety items into consideration for the nursery before you bring your baby home, you are bringing your child into a much safer environment. This means you have one less thing to worry about enabling you can focus all your energy on welcoming your new baby into your home and your heart.
Amazon Product Images used to illustrate this page:
RoomMates RMK1439SLM Scroll Tree Peel & Stick Wall Decal MegaPack
SoHo Owl Tree Party Baby Crib Nursery Bedding Set with Gray Baby Carrier 8 pcs set
Automatic Specialties Child Safety Window Guard by Guardian Angel REGULAR (23″-35″)
Munchkin Extending Extra Tall and Wide Metal Gate, White
DaVinci Emily Baby Changing Table, Espresso
Tee-Zed Anti-Tip Furniture Anchor Strap
Badger Basket Two Bin Storage Cubby, Espresso
Teddy Hammock JUMBO Toy Storage Net – White