There is an art to brilliant conversation. It is more than each person talking in turn. It is more than showing courtesy to your interlocutor, pausing when needed, and listening just as much as you speak. Real conversations, the ones that are truly meaningful, allow occasional interruptions of one speaker by another, to interject additional relevant facts, to help with a word choice, and in all other ways to support the better flow of information between and among speakers.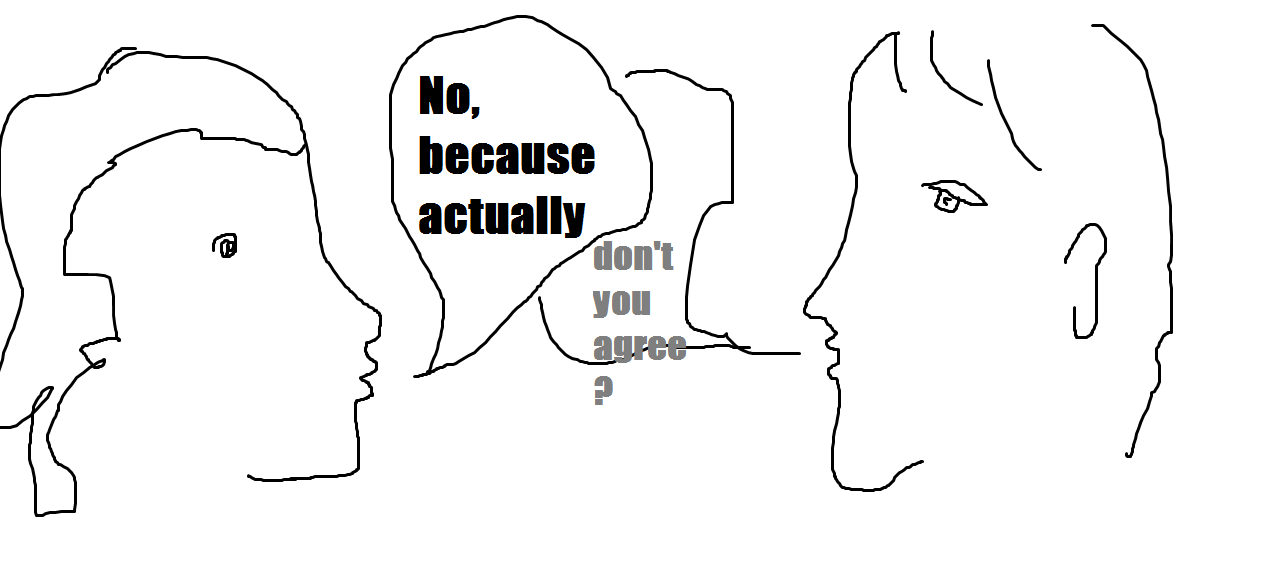 Many of us who are socially awkward have been led to believe that if only we master turn taking, everything will get better. Of course, we all know people who insist on giving a monologue or a speech to everyone they meet, and that can be annoying. It certainly isn't a conversation. This is a problem that can and should be worked on with someone who has trouble with social interaction.
However, I have also seen the converse problem. There are some people who are so well schooled in turn taking, that they entirely forget the purpose of a conversation. I have watched some people who are socially intact but otherwise cognitively impaired take turns talking at each other. They very courteously pause to let the other person speak, but what they say after the other person has spoken in no way relates to what he said. Or it only very tangentially relates, as in sharing a general topic, but having nothing to do with the point that person just made.
A true conversation is a dialogue in which the participants are collaborating on creating a coherent text. In all my writing, and in my favorite books that I read as a child, that is the whole point of conversation. Certainly, in order to do this, some social housekeeping is required. We can't all speak at the same time, because then nobody will be heard. But turn taking is only a very minor concern, one that can at times yield to the greater needs of the conversational flow. It is all right — and even required — to speak out of turn when you have an important point to make. The purpose of the conversation is to exchange information and build a coherent understanding of the topic. The point is not just to socially interact with whoever happens to be there.
Now, when I was a child, we practiced such conversations at home. The text of the conversation was dictated by the general topic and the specific issue being explored, not by the importance of the people involved. The very smallest person at the table was allowed to interject a relevant point, even speaking out of turn. But  a person who was ranked socially higher had better be silent if he or she had nothing to contribute to the conversation. It was not about rank. It was not about civility or conviviality. It was about content.
When I began to put conversations such as this into my fiction, I encountered some critics who said that the conversations were contrived, because real people don't talk like that. Only characters in nineteenth century books do.
In fact, it took me years until I met someone outside my own family with whom it was possible to have coherent conversations. He did not agree with me about much, but our conversations made nice, coherent texts, which when written down looked a lot like a dialogue from a book. I have always valued the ability of people to have such conversations, and as rare as that quality in a person is, I think it is an ideal to which we should all aspire.
If autistics need more schooling in turn taking, I think most neurotypicals should also undergo training in conversational coherence. They should be taught that turn taking and social rank are not everything and that ultimately, if you have nothing to contribute to a conversation, you should remain silent. This also applies to publishing professional papers and books in which no actual content is present.
There is an art to conversation. The partners in a dialogue are contributing to a text. The value of the contribution depends on the needs of the text, not on the rank of the contributor.  Coherence is a quality in conversation that needs to be upheld, and it should yield to the lesser value of turn taking.
Related Articles
http://hubpages.com/hub/Reading-Comprehension-and-the-Hyperlexic-Child
http://theodosiaandthepirates.blogspot.com/2014/02/the-nature-of-love.html
http://www.pubwages.com/47/books-by-john-wheatcroft-the-portrait-of-a-lover