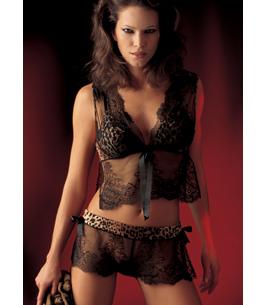 Excitement builds after the proposal; you are now planning for your wedding and the last thing you need is to be wearing mix- matched lingerie.  Only your soon-to-be husband will know what is underneath, so choosing wedding lingerie is important. Here are a few simple steps that will help you choose the right lingerie for your wedding day.
Be aware that temptation will strike during preparation of the wedding; make sure you choose the gown first and the lingerie last. The style of your dress will determine the type of lingerie you will purchase.
Purchasing a strapless corset or a long line bra that fastens at the small of your back would be the right lingerie to buy.  These two pieces can be worn under an array of styles and will show off your best assets.
A majority of brides choose to wear hosiery. If you are wearing sandals choose to opt for toe-less pantyhose. Wearing a closed to shoe? If your wedding gown is white, choose white pantyhose. The garter can be based on the color scheme of your wedding colors.
Silk, satin, lace,  a beautiful nightie or teddy should be chosen for the wedding night.  Once the party is over romance sets in and sets the mood for the entire honeymoon. Choose romantic colors such as red, black, white, deep purple or any other type of color that will make you feel sensual on your honeymoon. Some brides opt to choose their new husband's favorite color. When choosing your wedding lingerie take your time and decide what looks best on you.
Always purchase the lingerie that you feel comfortable with. Bootie shorts, thong, string whatever makes you feel sensual is what you buy. Throw hints to your husband-to-be, asking him what he would like to see you wearing before and after your wedding. Wedding lingerie will not only be purchased for your special day; but will be treasured for a lifetime.