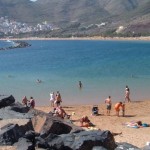 Tenerife is one of the seven Canary Islands, all of which are Spanish but are closer to the coast of North Africa than mainland Spain. The islands are blessed with above average weather all year around and this makes them very popular holiday destinations.
Tenerife is very much two islands in one because the north and south are so very different. The north tends to be cooler, get more rainfall and is covered in farmland and forests. The south tends to be hot and dry and much of the coast-land that has not been developed is semi-desert. The main tourist resorts are located down south and the main airport is there too. All flights from the UK bring holiday-makers to the Reina Sofía Airport, or Tenerife South, as it is also called.
The most popular resorts in the south of the island are Playa de las Américas and Los Cristianos, and the two places are right next to each other. They have plenty of bars, restaurants, shopping centres and their own beaches of glorious golden sand. There are also natural black volcanic sand beaches in Tenerife but billions of tons of sand was imported from the Sahara desert to create beaches especially for tourists. There is also a beach like this in the north of the island, which is known as Playa de las Teresitas. It is conveniently near to Santa Cruz, the capital of Tenerife, being a short drive or bus journey up the coast.
Tenerife north has its own Los Rodeos airport and the two airports for the island are connected by a very efficient bus service which has services to all parts of Tenerife. The city of La Laguna, which is very near the Los Rodeos airport, is where the university for Tenerife is located.
Tenerife's north has beautiful forests and mountains in the remote Anaga area of the island. It also has its own tourist resort on the western coast which is called Puerto de la Cruz.
Tenerife has very many volcanic mountains with Mt Teide being the central point of the island and the first thing you see when approaching by plane. Mt Teide is the highest mountain in all of Spain, including the Spanish mainland. In winter the peak is often covered in snow, whilst subtropical sunshine and temperatures can be enjoyed on the coast which is only about an hour's drive away.
Tenerife and the other Canary Islands were originally populated by people collectively known as the Guanches but they were conquered by Spanish invaders long ago. There are many statues of Guanche kings dotted around the island and the Guanche language has survived in place names such as Tacoronte and Icod.
Tenerife has plenty of really spectacular countryside, ranging from barren semi-desert areas covered in scrub and prickly pear cacti to vast pine forests, sweeping valleys and steep cliffs and mountainsides. It also has several evergreen laurel forests that are some of the only surviving stands of such woodland still on the planet. The varying habitats make it a wonderful place for naturalists to explore.
Tenerife is a wonderful place for ramblers and anyone who enjoys mountain walks. The coasts have several marinas and whale and dolphin-watching trips are on offer as are diving excursions.
There are ferry services and flights available to the other islands in the Canary Islands group which consists of Fuerteventura, Lanzarote, Gran Canaria, La Gomera, La Palma and El Hierro.
Tenerife really does provide everything that tourists are looking for and it is not surprising it has become such a popular holiday location.