Vegan Comfort Food Meatloaf Mashed Potatoes and Gravy
I'm both a big eater and a vegetarian who's also veganish. Veganish is being almost vegan but not exactly. I love comfort food yet don't eat meat.
I love meat loaf, burgers and fries! I enjoy these types of foods everyday the only difference is my version is meat free, delicious and not fattening like the meat version.
Really, trust me, I never lie and always tell the truth!   It's amazing, delicious and mouth watering!
Today I will share with you one of my favorite vegan meals that is guaranteed to stick to your ribs and leave you very satisfied. On the menu today we have meatloaf, mashed potatoes and gravy! Yummy right? I know!
Are you ready to be fed? Let's move on!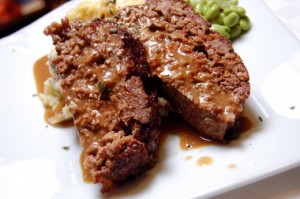 Vegan Comfort Food Meatloaf Mashed Potatoes and Gravy
Meatloaf
1 medium to large onion, depending on taste
1/2 small green bell pepper diced (optional per taste)
3 Tbsp. olive oil
2 lbs. Gimme Lean vegan brand "meatless ground beef" certified vegan
(found in natural grocery stores)
1/4 cup oats
1/2 cup whole grain bread crumbs
3 Tbs. ketchup
1 tsp. fresh ground pepper
2 tsp. garlic salt
Add olive oil to skillet heat to medium, add onion and green pepper until the onions begin to soften and turn golden.
Remove from heat pour into a mixing bowl, combine gimme lean, oatmeal, bread crumbs and remaining ingredients blending well.
Press into a oil coated loaf pan, cover with foil and bake at 375 for 30 minutes.
Topping
1/4 cup ketchup
1/4 cup brown sugar
1/4 tsp. dry mustard
blend well
After thirty minutes;
remove meatloaf from oven
turn out onto a oven safe serving dish
coat with topping
return back to oven for 10 minutes remove and serve.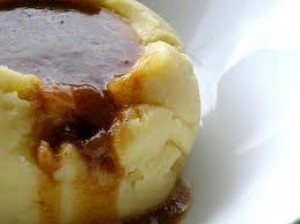 Mashed Potatoes
6 large peeled potatoes boiled till tender blend the following to potatoes
1 cup non dairy creamer
4 Tbsp. margarine
1/8 cup fresh chopped chives
fresh ground pepper and sea salt to taste
I need not tell you how to mash your potatoes, everyone's different so do it how you like it!
Brown Gravy
I small onion
2 tsp. margarine
2 Tbsp. all purpose flour
2 Tbsp. cornstarch
1 tsp. garlic salt
1 1/2 cups vegetable broth
Fresh ground pepper and sea salt to taste
Sauté onions in butter on medium heat till tender add flour, garlic salt and sauté for 6 to 8 minutes, Dissolve the cornstarch with a wee bit of vegetable broth mixing until smooth slowly adding it to the onion mixture while stirring. Allow to simmer for up to 10 minutes or until thickened.
Plate your beautiful meatloaf, mashed potatoes, pour gravy over each and be prepared to be delighted as your taste buds sing for joy!
Eat Vegan and Eat Good,
Katie