Up until recently, if you wanted to include an Amazon product in your pub, you had to put in a simple link.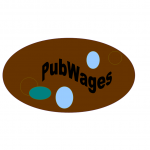 If you tried to use a widget from your Amazon Associate account, somehow your widget was transformed into a link by our security software here on PubWages. Only the administrator was able to post Amazon widgets.
Widgets are pretty nice things. They are attractive, decorative and help to showcase products. For example, the widget below features the most wished for books available on Amazon.com.
There are, however, a couple of drawbacks in the use of widgets:
They use iframes, and universal access to iframes on PubWages might expose us to malware.
Widgets use a lot of site resources, and they slow us down.
To use Widgets, without lifting the overall restriction on access to iframes, PubWages would have to install a plugin that would allow the individual Pubber to receive 100% of the revenue generated from the widget, because we don't have a way to do revenue sharing on widgets. (Our rev share software works only on regular links.)
In order to make the most of all the positive opportunities provided by Amazon widgets, I have decided on the following:
We will allow one Amazon widget per pub page. This means, if your pub is a page long,  you may use one widget. If it is two pages, you may use two widgets, but only one to a page.  You get to keep 100% of the revenue from the Amazon widgets.
You may have as many regular Amazon links as you want in your pubs up to the overall maximum link number per pub, which is currently set at seven. We will take 20% of the revenue from the regular links. You get to keep 80%.
Widgets should be used to advertise products that directly relate to the topic of your pub. Don't just use a bestseller list, unless the topic of your pub is bestsellers. Don't use a most wished for list, unless your topic is the products most wished for. If you are writing about boats, show boats in your widget. If you are writing about a product not available on Amazon, don't use an unrelated Amazon widget.
Important: Before using the new plugin, please update and re-enter your Amazon Associate ID in your profile setting.
I'm looking forward to seeing more widgets in  your pubs. Used sparingly and in context, I think Amazon widgets can enhance the pubbing experience!