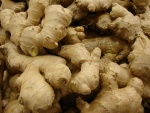 When I traveled to NY three years ago to visit my sister, and see my nephew who had returned from teaching in Thailand for 3 years with a beautiful Thai fiancee, a family friend gave me a bag of sweet ginger chews. Now, I have a sweet tooth, and enjoyed eating these chews, throughout the month. I noticed, my digestion was feeling better, I could sleep better, my blood pressure was lower, sounds incredible but I DID notice changes, and being the researcher that I am, I found that ginger is an overall antioxidant and tonic for the body.
Helps with:
Circulation
Nausea
Arthritis
Tumors
Cholesterol
Blood pressure
PMS and hot flashes
Ginger does not generally have side effects but it's best to take it in moderation to   avoid  heartburn, diarrhea, and general stomach discomfort.  A few ginger chews several times a week will give you the healthy benefits of its nutrients.
Ginger can also be taken in teas, seasonings or in capsules. I prefer the chews, so now keep 3 oz of ginger chews in my office because I love sweets and its the only way I will eat ginger.
To your health!