Buster was a rotund Bull/Siberian Husky mix, who was born on August 4, 1995. Yes, he would have been seventeen this summer if he were still alive, but he passed away in January of 2007. I have many fond memories of Buster, such as the banana nut bread color of his short fur and his stubby legs, which made it difficult for him to climb up hills unlike our other dogs Lady and Amber. Since I truly loved Buster I decided to paint his portrait, which now graces my wall.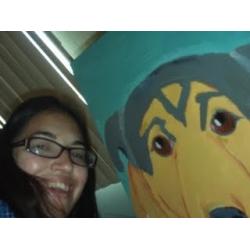 Buster's Influence On Me
Buster inspired me to create an oil painting to commemorate his life. I truly miss spending time with my doggie, who I nicknamed the diplodog because he liked to shake my hand.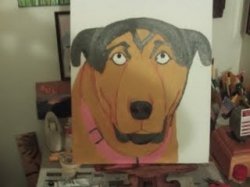 The following are a few questions people have asked me about Buster after seeing his painting.
Where did you get your pet?
Buster was born in a litter of ten puppies on August 4, 1995. We did not know our Siberian husky dog Lady was pregnant at the time, but she ended up having ten puppies. We kept Buster and Amber, but the other puppies were adopted within three months of their birth.
How Did You Come Up With The Name Buster?
Buster was named by one of my sisters, so to be honest I am not sure why he was given this name. However, this name was quite fitting after he grew up, and became the cute little rotund doggy that could barely climb up a hill because of his stout little legs. His sister Amber was a Lab/Husky mix, and she could bound up hills expeditiously just like her mother Lady.
What Were Your Favorite Things To Do With Buster?
One of my favorite rituals was simply sitting with Buster in the backyard and stroking his head as we both basked in the sun. I used to hug him, and he would lick my cheeks. Those are the memories of him I will always cherish.  Of course I used to shake his hand quite a bit, and he was always enthusiastic to do that.  He could shake your hand for twenty minutes, and enjoyed it immensely.
Did Buster Ever Do Anything Silly?
Buster loved to chew on dog bones, but you could not leave any laundry around him because he had a tendency to gobble up unattended wash clothes.  He also had an appetite for dry wall when he was a puppy, which did not please my dad.
Thoughts About Buster
Buster was quite beautiful to me because he had a large head, and he was the color of banana nut bread. Actually, one of the nicknames I had for him was Banana Nut Bread because of the flaxen color of his coat. Did I mention he also used to love it when I fed him a slice of homemade banana nut bread!