Like everybody else, I have albums upon albums of family photos from the previous century. I inherited the albums of my Grandmother Klara, my father's mother, after her death. Many of these albums are falling apart, with the pictures spilling out of them.
Most of the photo albums that were sold to the public in the late twentieth century were a complete rip-off. They were not designed to last a century, much less a millenium, and though they promised to preserve our memories forever, the people who manufactured them knew that we would not live forever, and that many of the people who bought the albums would be dead and buried within about fifty years and would never live to see the promise broken or think to bring a law suit against the manufacturer.
What options do we have now to preserve these photos for our great-grandchildren, without getting taken in again by merchants whose wares will not stand the test of time?
I would avoid any albums that claim to be "magnetic". First of all, they are not magnetic. They use a kind of glue that allows you to decide to place a photo anywhere you like on the page, and they hold up for about fifteen years, give or take a year, depending on the humidity in the room where you store them. Fifteen years is not even one generation, much less a lifetime.
The better choice would be albums with pockets, because while these are more restrictive as to where you place the photos, they will stand up for many more years than the so-called magnetic albums.
However, the best kind of album to get is one that is of "archival quality". European albums are more likely to be of archival quality, because many American companies don't actually intend for anything to outlast the consumer. Things are priced low to sell fast. In Europe, everything is more expensive, and often it is unnecessarily of high quality, in a way that is not useful for the consumer, since the consumer will not use it past his own lifetime. In the case of photo albums, especially if you are planning to found a dynasty, is it better to invest in the expensive kind. These albums are not for you. They are for future generations yet unborn.
Another way to preserve your family photos is to scan them in and then keep them in an electronic form.
I would not rely on electronic albums exclusively, because electronic products have shelf lives, and what is not copied and copied over and over again in the latest file format every five years or so will not end up being preserved, especially after a world war or other cataclysmic event.
You might be laughing at me at this point. You are probably thinking that I am being very silly thinking about the preservation of family photos during an event that might mean the deaths of very many family members. Shouldn't we work hard to save our families, rather than the family album?
Maybe. But sometimes it's not possible to save your family. It is, however, much more feasible to preserve a few rare photographs of them and to hand them down from generation to generation. That is what happened to my grandmother during WWII. She lost her parents and her brother, but she was able to preserve photos of them. It helps to have a photo to look at in order to understand the loss. These are people I never met, though they were my great grandparents and great uncle.
The first picture with my great uncle Saul in it was from quite a bit later.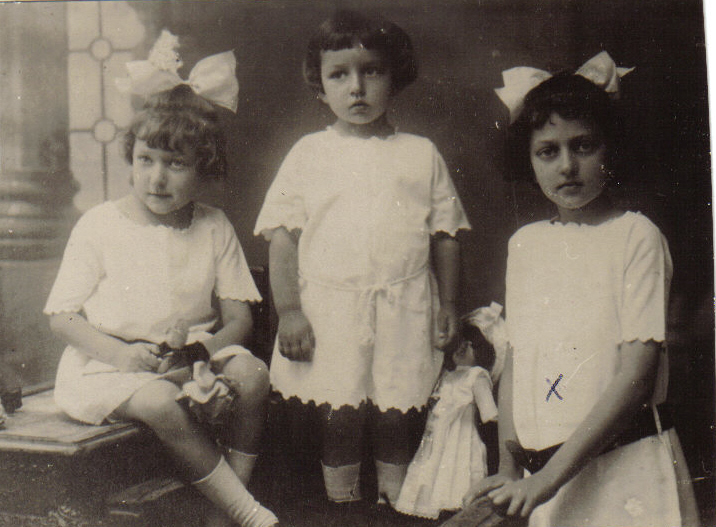 My grandmother always marked all her photos of herself with an x.
Here is a picture of her entire high school class in the Hebrew Gymnasium in Krakow in 1927: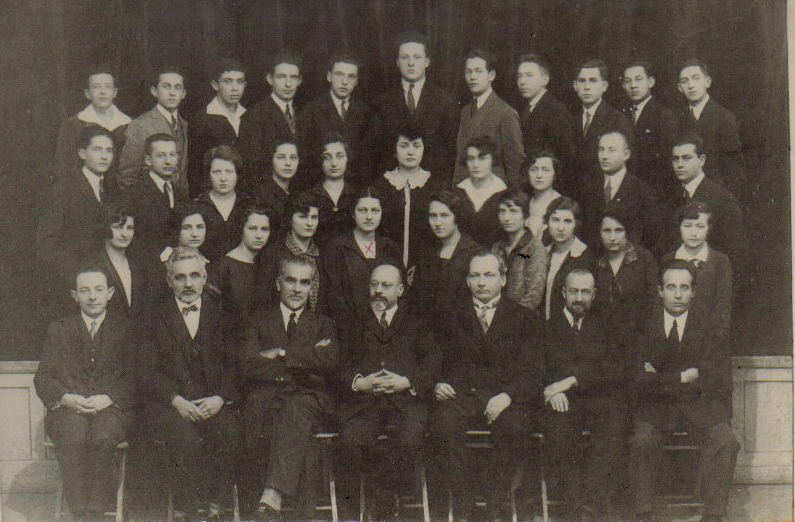 Here is the last picture in which my Great Uncle Saul appears:
Here is a picture of my father, Amnon Katz, my grandmother Klara's only son, in Krakow the year before the war broke out and another of him in Vilnius while he was in flight during the war:
One thing to keep in mind while leaving photographs for your descendants is that they may not live in the same country as you do — or even if they do, they may not end up speaking the same language as you do. Mark the photos in more than one language so that your descendants, whoever they are, will be able to identify the people and events in the pictures. That's what my grandmother did on the backs of her photos: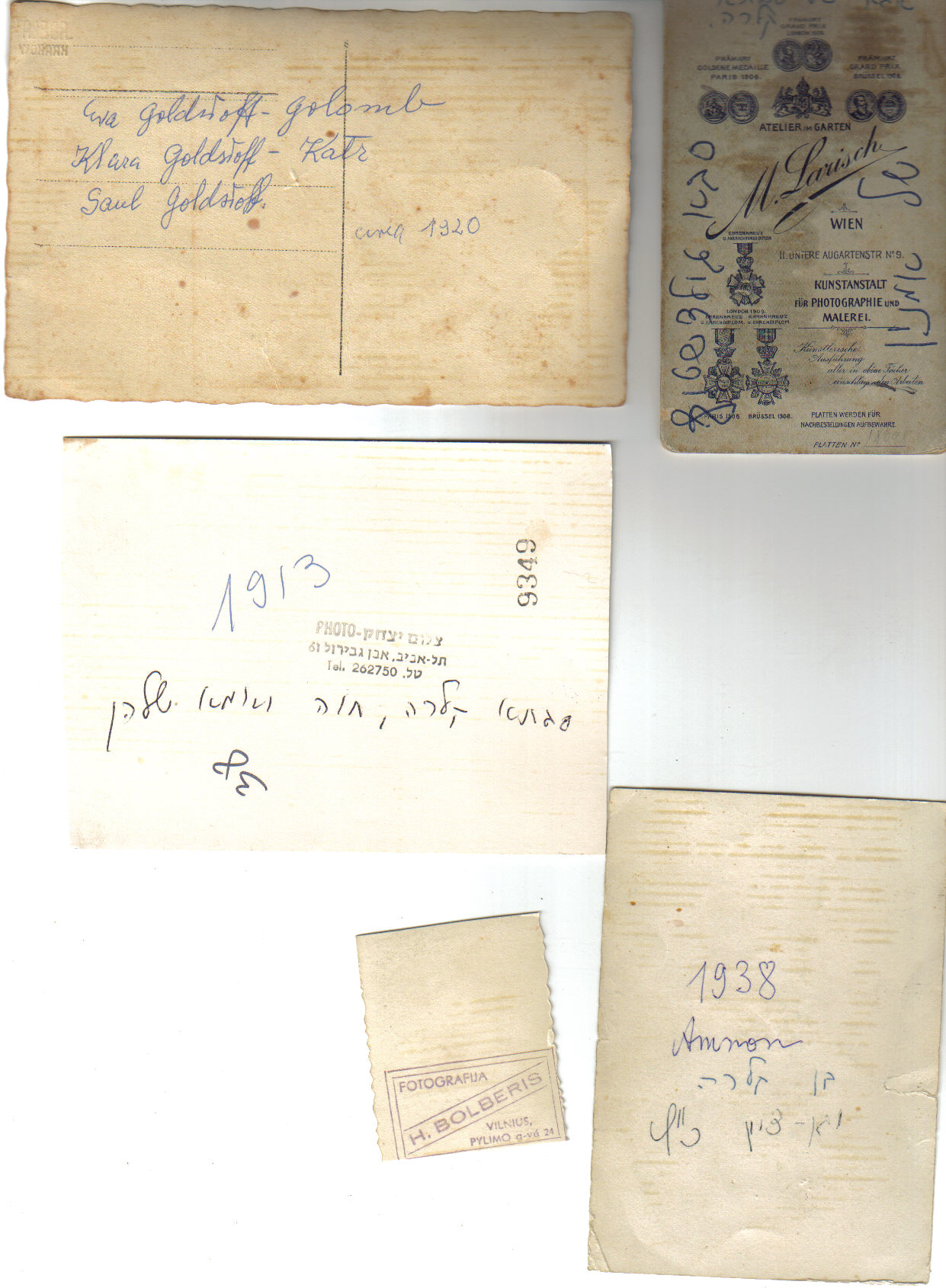 You may be an American and you may only speak English, but after the next great war, your great-great grandchildren may be speaking Chinese. Make sure they still can identify you and your family by marking your photos with captions in more than one language: the language you speak and the language they are likely to be speaking in the future.
Keep in mind that your descendants may be very different from you in outlook, culture and technology, but they may still want to know about their distant ancestors. So don't go for the cheap albums, back up your digital images in more than one place and more than one format and translate everything to Chinese. Your descendants will thank you!
Copyright 2012 Aya Katz