The pumpkin has been sitting on my counter for a few weeks, and I decided today was the day I needed to roast him.
Above are two pictures illustrating how I cut vertical slats in the pumpkin. Does it seem funny that I did this? The rationale behind cutting slats in the pumpkin is so steam can escape since I am roasting it whole. Yes, I find it easier to roast the pumpkin whole rather than cutting into the hard gourd and scooping at the insides before cooking. Once it is roasted I allow it to cool completely, and then it is soft when I scoop out the insides.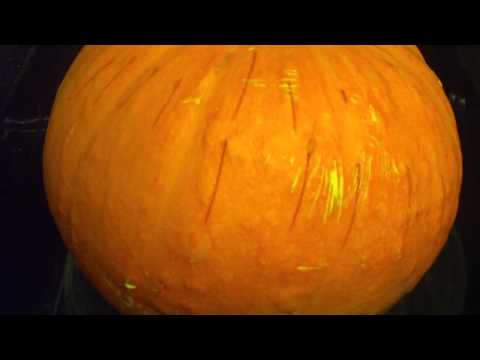 The pumpkin looked lovely after I took it out of the oven, but it needs to cool off before I scoop out and puree the pumpkin fruit on the inside.  You can watch more of my YouTube videos to see the pumpkin pies I have made over the years.
Here is what the pumpkin looked like as it was roasting in the oven.
Here is what the pumpkin  looked liked after I took it out of the oven.  It needs to cool off!