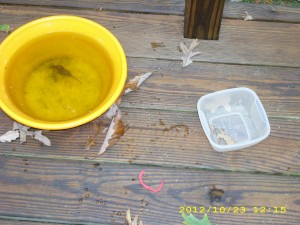 This story starts out with a couple of cats and a Pink Pipe Cleaner.  On our back deck I have a basket full of cat toys.  Some of them are those furry mice or the balls that they love to play with.  I also have things like those plastic, empty Easter Eggs that you can fill up and some Pipe Cleaners.  For some reason they prefer pink or red toys.  I also feed them on the back deck and so that is where they eat.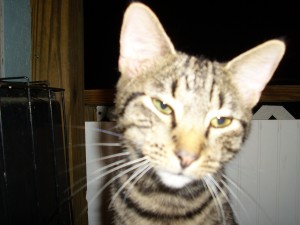 Mikey is a totally outdoor cat.  I have another one but he doesn't like to play with anything.  Mikey is the one who loves to play with those toys and many times he will push them under the railings on the deck and I have to go pick them up off the ground and take them back up the stairs and return them to the basket.  He's funny like a baby because he had me watch him one day and he pushed a ball right under that deck while I was watching him.  It is just like the baby in a stroller that will throw their bottle or something onto the floor just to have an audience and delight at having mom keep picking up that object.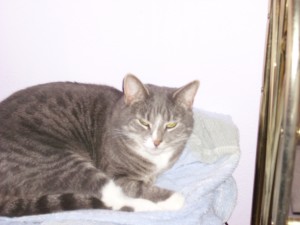 It was afternoon and I didn't see anyone playing with the pipe cleaner.  I saw it on the ground just below the front deck.  I picked it up and threw it onto the front deck.  A few minutes later I saw Sunshine came onto the ramp that is attached to the front deck and so I stood there at the glass door and watched her as she entertained me.  She always entertains me weather she is running up a tree or chasing leaves or catching something on the ground.  Sunshine Picked up the Pink Pipe Cleaner, in her mouth, and dropped it into the water bowl.  She batted it around in the water for a few minutes and finally she fished it out of the water with her paw.  I thought she was done with it. She's not to hip of playing with "dead" toys. She is my hunter for the live kind of toys like mice, worms, baby snakes and big bugs that crawl around in these woods
After batting it around for a few seconds on the deck floor she picked it up in her mouth and took it over to the food dish.  She dropped it in the food and proceeded to eat her food.  I don't know what the purpose was to having the pink pipe cleaner in the food dish as she ate.  Only she knows that.  She's a strange cat.  After eating a few kibble of food she just went off the deck and into the woods and didn't bother it anymore.
It was now dinnertime for the cats.  They always seem to come around to eat around five o'clock in the evening.  We don't eat at that time but they do and it doesn't matter what season it is.  I feed them enough to last the day.in the morning.  Sometimes they will eat lots of it then but most times they will eat about a teaspoon of it and then nibble throughout the day.  I mean nibble as in eating like a teaspoon here and there.  Anyway it was dinnertime and Mikey came up to eat the food in the dish on the front porch instead of the back deck.  The pink pipe cleaner was still in the dish.  I went out and took it out of the dish so that he could eat.  He ate his fill and went off into the woods to do whatever it is that he does too.  He didn't bother with the pink pipe cleaner at that time.
This morning I found the Pink Pipe cleaner just where I left it on the deck.  I didn't feed them out there today.  I did yesterday because Sunshine, who is my indoor/outdoor cat, didn't come in before the contractors came to start putting in our new driveway.  I normally do not feed the cats there at all.
Being that Sunshine was out; I needed to feed her there as she is a bit of a bully out there with Mikey.  We don't know why she all of a sudden became aggressive towards him.  She will stalk him and will not let him come to me when I call for him to come eat breakfast. She also growls at him and this makes no sense to me why she has chosen him or anyone to pick on. I have even seen her do that when food is not involved.  LOL My husband says that she doesn't think he belongs in her clan anymore.  Most times cats will push out the ones who are ill but I checked out Mikey and he is as healthy as a cat can be.
It was chewed up by something and only a small piece remains.  I went and got more pipe cleaners and twisted them up and put them in the basket on the back deck, since there were no more in there.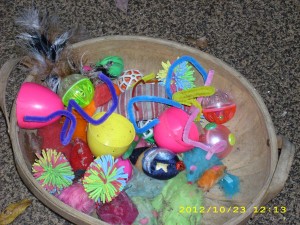 So that is the story of the Pink Pipe Cleaner's adventure.