Since I like to make crafts such as cards, I decided to create a handmade card tutorial as a tribute to the people of Japan. My card is entitled "My Heart Goes Out To Japan," and it was a card made to so my appreciation for Japan. The material I used to create this Japanese flag card are:
*a sheet of computer paper
*a coffee can
*a red pen
*a red marker
Step One: Fold A Sheet of Computer Paper In Half
The first step for making this card is to fold a sheet of computer paper in half. I used an eight by eleven-and-a half sheet of computer paper to make my Japan flag tribute card.
Step Two: Trace Around The Coffee Can
Trace around the coffee can on the front of the card with a red pen. The circle in the middle of the Japanese flag represents the sun. Using a red pen for tracing was a good option because it will blend in when the circle is colored in.
Step Three: Finish Tracing The Circle
Finish tracing around the coffee can and remove it from the paper. Now you have a circle that represents the sun on the Japanese flag.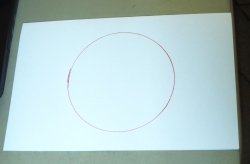 Step Four: Trace Around The Circle With A Red Marker
Trace around the circle with a red marker to give the sun a "smoother" look.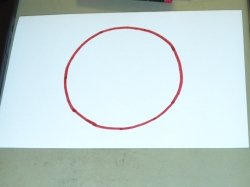 Step Five: Begin Coloring In The Sun
Use the red marker to begin coloring in the sun on the front of your Japanese flag tribute card.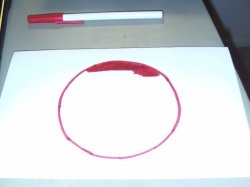 Step Six: Continue Coloring In The Sun
Continue coloring in the sun, but make sure to stay in the lines. Use nice smooth lines when coloring, and fill in all portions of the circle.
Step Seven: Finish Color In the Circle
Here is what the sun should look like once it is colored in.  It is a simple red dot with a white background, just like on the Japanese flag.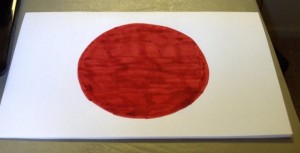 The Finished Card:
Here is what my finished card looked.